Not so much a Birthday post as I have yet to properly celebrate (im waiting until the weekend)
but I turned 23 yesterday :) me and Ben went to Jamies Italian for dinner, I had the rice balls which were lovely and then the Ossobucco Milanese for main which I wasn't keen on really. Ben had the squid rings (I love saying that I don't know why) and Angus steak with posh chips. I tried some, the steak was cooked to perfection!
I am a lucky girl! these were my presents:
Angry Birds pig I LOVE THIS GUY!
Bambi dvd
Swarovski stacker rings (so spoilt by my friends at work!) Not the best picture my digital camera doesnt seem to be focusing recently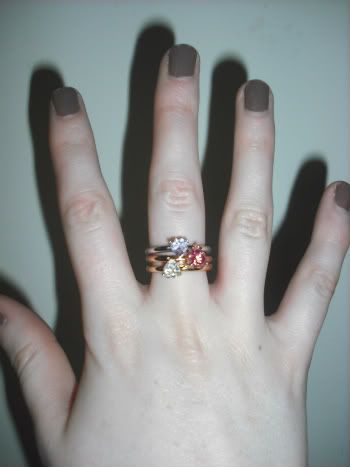 a pink sparkly Chamilia bead for my bracelet as well :]
and money towards a watch which is partly from christmas money and birthday money from my parents and then the rest paid for by me.
I'm buying it tomorrow all going well so I will post a picture soon.
Emily x