Today has been a good day for post.
So firstly my Graze box arrived and this is what I got: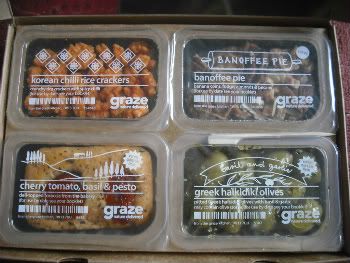 http://graze.com/b/xtzd3 this link will show the items in detail.
The korean chilli rice crackers were AMAZING.
Im not a fan of banana or olives but Ben loves them so I thought its only fair I don't cross them off the list and let him have some things he likes as well.
You get a little leaflet with the nutritional info calorie count etc and also some vouchers to give to friends for a free box. I can't wait to send one to my sister she will love it!
The best thing about the graze box...it fit through my letterbox! So if I hadn't been in I would have still recieved my yummy foods and not a pesky red slip to collect from the post office. BONUS!
I also got the top I ordered from RogueRetro on etsy
Its a floral haiwaiin crop top with a cute knot in the front I LOVE IT!
Rogue Retro is a great shop check it out:
http://www.etsy.com/shop/rogueretro