Sorry about my depressing last post.
Today I feel much more optimistic, nothing has changed but I figure everything will work out for the best. As long as me and Ben are together it doesnt matter where we live and I am lucky to have any job at the moment so I will not be fussy if I have to look for a second one.
All this spare time has allowed me to catch up with some much needed crafting here we are the start of 3 new projects:
Stinky this little fellow is for my Moomin shelf. Last year I went to epic lengths to make these:
I felt now was the right time to add some of the lesser characters into the mix.He should be finished by tonight.
Decoupage storage draws. I saved this box from work it had all the beads in it for one of the jewellery brands we used to stock. So I have taken out the divides in each draw and am decorating the outside with decoupage. Ive chosen pastel colours and floral papers cut mainly from Cath Kidston catalogues! Anyway this is my progress so far I need more catatlogues haha.
I will do a before and after blog when its finished maybe by then I will know what to use it for!
Cake stand: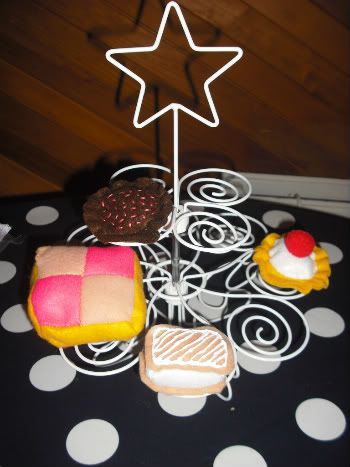 My cake stand sits on our kitchen table and most of the time is empty so I thought I would make little felt cakes to fill the gaps when it isn't in use. I used various tutorials from my craft library.
I followed the steps from 'Knit it Stitch it' for the cakes
I used Heidi Kenney's ice cream sandwich as the basis for my ice cream sandwich although they look nothing alike I did use her guide from the book 'Softies'
The batenburg was my own design and as you can see its completely the wrong scale haha So I might have to redo that one. Next on my cake list is an eclair.yum yum!