So Saturday was a busy day!
Basically me and some of my friends off my university course had been planning to visit a few places as soon as our workload had finished and because everything was fairly close we decided to just do it all in one massive day of fun and culture!
The weather was so hot and sunny you would not believe! It was perfect :)
I met Sam and Alexa at the train station in Newport where we hopped on a train to Cardiff. The journey takes about 15 minutes which is great because if you have ever visited Newport you will know it is quite lacking in the shopping and culture department.
When we arrived the first thing on our agenda was the Diane Arbus exhibition at the National Museum Cardiff. Diane Arbus was born in 1923 and commited suicide in 1971 she was an ingenius photographer but sadly a very troubled lady. The types of people Arbus photographed has led to her work being the subject for controversial debate. The main question is did Arbus take advantage of her subjects?
Arbus photographed people with disabilities, circus acts, nudists, transvestites and just generally people she found to be interesting. I do not believe she was anything but sympathetic to her subjects and I think she often had a connection to them. If you have not seen the film Fur starring Nicole Kidman and Robert Downey Jr then I suggest you do, it isnt accurate, in fact it is a fictional story about Diane Arbus' life, but I think it tried to capture her mindset and feelings, it is also beautifully filmed with some great 1950s costumes and sets.
I think in this film Nicole looks especially beautiful, i think the dark brown hair suits her wonderfully!
Arbus' image 'Identical Twins' sold for $478,400 at auction it is in the top 10 most expensive photographs in the world. It also happens to be one of my favourite photographs by her along with 'Boy with toy hand grenade'.
I will be honest she is not on my list of favourite photographers but her work was so profound for the 1960s and 70s because many of the people she photographed were from the edges of society they would have been considered 'freaks'. You really should go see it (especially if you are studying photography like me!)
the twins are quite creepy they remind me of the Shining!
I was also suprised to see some landscapes in the collection Diane Arbus is never really associated with landscape photography so it was a nice surprise! The exhibition is on until the 31st August so if you get chance you should have a look. There are also some Monets on loan to the museum right now including Water Lilies, it was beautiful.
On the way to Jacobs Antiques (also in Cardiff) we stopped off at the Disney store, one of my favourite places haha. I really want a Sleeping Beauty towel.
There were two reasons for going to Jacobs Antiques. The first being the obvious and the second being the 2nd year Documentary Photography course at my University was displaying its work from the last semester. The work was really good but a lot of it seemed more Photographic Art than documentary (Photographic Art is the course i take).
Then to the antiques! There was a lot of memorabilia which excited my friend Sam as he loves sci fi especially Doctor Who (check the tardis outside the shop)
this is me and Sam.
There wasn't a huge amount of vintage clothing which was disappointing but they did have an amazing collection of cameras which we stood looking at and swooning over for ages.
there was large format, medium format, twin lens, mini spy cameras, all shapes sizes and colours!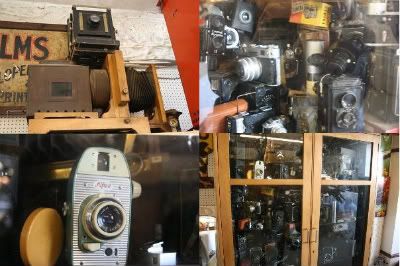 There was a lot of taxidermy on all different stalls, I am fascinated by it, I wouldnt necessarily have any in my house but I think they are kinda cool all the same. (sorry vegetarians and animal rights activists)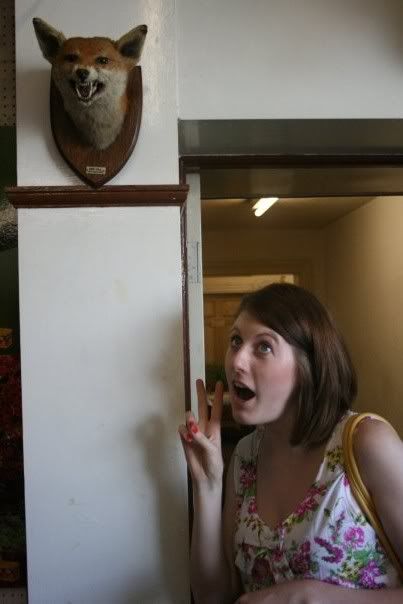 This is me and an angry fox, this was made in like 1926 apparently. Foxes are my favourite animals but I forget they can be really vicious and rightly so! If I was being hunted and stuffed to be mounted on a wall I too would be a little angry.
Any idea what this animal was?
Another photograph of the antiques. I like the bowler hat. and there were some nice tea sets too :)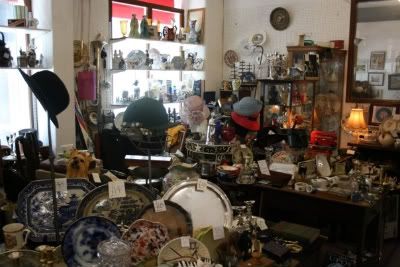 Jacobs antiques is right by Cardiff Central Station so we got on another train to continue our day of culture.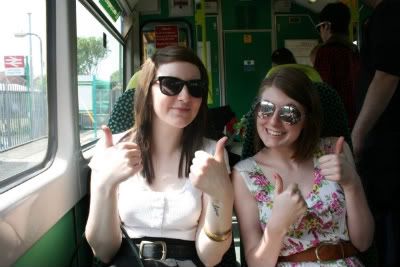 This is Alexa and me on the train.
Penarth was a popular holiday resort during the Victorian times. It has a lovely pier where we got some yummy icecreams and sat in the sun.
We had a quick look in the Ffotogallery because Sarah Pickering's work 'Holding Fire' was there. Sarah Pickering had given a lecture at our university earlier this year so it was nice to see her work in its intended form rather than on a powerpoint slideshow :P
I do like her current work about explosions but it was her black and white images of burnt out buildings which caught my attention. Pickering took these whilst on residency with the fire services.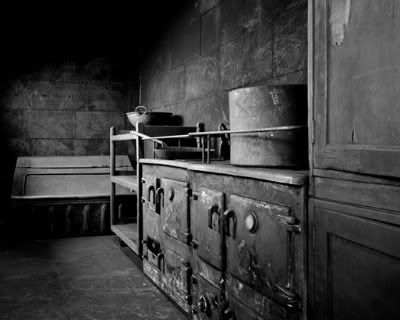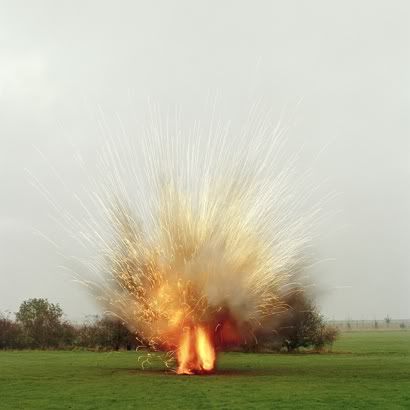 We stood and looked at the books on sale at the gallery for a bit because i love love LOVE art books :)
Then on to Forever Vinatge!!! This store was mentioned in an article about South Wales vintage scene on http://www.queensofvintage.com/
Its right by the Penarth train station and me and Alexa could have spent all day in there!!
The amount of wonderful hats and bags you would not believe!
Clothing wise I wasn't overly impressed, there didnt seem to be anything I liked much. But they had beaded bags from the 1920s right through, and velvet hats from the 1940s up to the 1980s! There were lots of beautiful brooches ahhhhh it was heaven! Sam got a bit fed up I think because we went round the tiny shop about 10 times picking up new things! hehe
We didnt buy anything despite the cheap prices because we are currently poor students at the end of term with no loans coming in until the end of September. I'm not holding my breath for a new job over summer because of the credit crunch people are being let go from jobs not hired! :(
The sun was still scorching and there wasn't much of a breeze even by the sea so we deciced to make our way back to Newport to finish off the day with the University's Graduate show opening night. We got ourselves some cheap wine - yuck! and had a look at the work we need to be making and improving on next year.
EEP! scary stuff, to think this time next year I will be finished university and having to make my own way in the world! After todays trip I'm definitley thinking a Museum/gallery curator would be a good job for me.
anyway hope you enjoyed the post, I went to bed at 11.30 so nearly a full 12 hour day! I fell fast asleep.
I will definitley be returning to Penarth soon, I will probably drag my boyfriend along.
byeee x
p.s all the photographs taken on the day out were by Alexa Osowski