It has been sunny today in Wales so I thought I would post a summery blog.
The first glasses made to protect the eyes from the glare of the sun were invented in 1929 by Sam Foster. The Foster Grant company started to produce sunglasses for retail in 1930.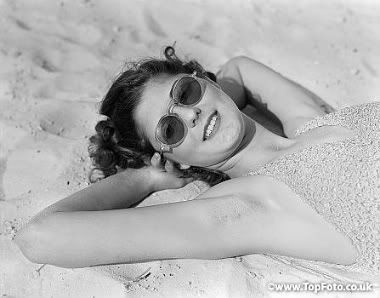 Sunglasses became all the rage and we havent looked back ever since!
With 1937 came the first ever Science Fiction convention and Ray Bans. Ray Bans are at the top when it comes to sunglasses, the Wayfarer, the Clubmaster, the Aviator all majorly popular styles copied by the highstreet.
The Wayfarers style is very popular at the moment with many celebrities such as Kate Moss, Kelly Osbourne and Joey Madden wearing them. They are expensive to buy as are all designer makes but if your clever you can get some cheap replicas from Topshop and Primark at the moment.
Here is Sarah Harding of Girls Aloud in a red pair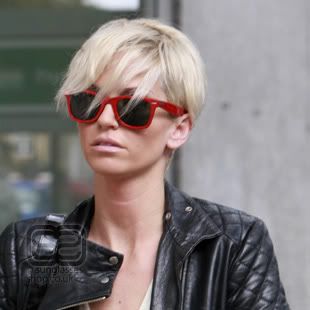 Look on the Ray Ban website it's a lot of fun you can try on their selection of shades virtually (if you have a webcam) and browse the available colours.
http://www.rayban.com/UK/
Ever seen Lolita? the Stanley Kubrik film based on the novel by Vladimir Nabokov. Well the film's iconic poster image is Lolita in her heart shaped sunglasses.
I got a pink glittery pair from Topshop last year paying £15, only to see them in Primark this year selling for......£1!!! One Pound!
So this year I bought a pair of red ones just like Lolita's. There is no difference in the sunglasses at all so I would recommend you pick a pair in every colour from Primark!
Here are some more novelty shade - we're getting onto Elton John territory here.
I saw these on google images and they look GORGEOUS!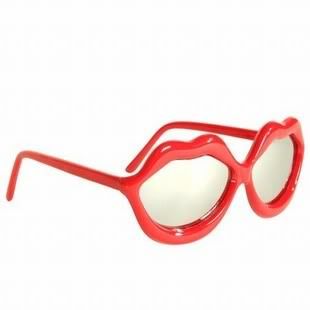 from Miss Selfridge, but again look around!
While I was searching for things to but in this blog I stumbled over this site,
http://www.klasik.org
There are hundreds of beautiful vintage sunglasses from the 1920s onwards and next to each one it tells you the era, make, condition of lens etc.
Im lusting after the clear pink 1930s pair by BOLLE, and the glittered frames of the 1950s. The sunglasses on sale here are great because they are cheaper than modern designer shades and yet they are on trend today.Most for less than £100.
But for you desinger fans there is a big selection of designer Ray Bans too :D
In the 1960s Ray Ban did well again with the 'Aviator' also known as 'pilot glasses'. The key features are the reflective lens and thin frames.
You can buy these all over the place, as expensive or as cheap as you like. I got a pair for £5 from a skate shop :)
White frames are also a popular choice, Grace Kelly and Audrey (who never seemed to be without a pair!)
Sunglasses were never more popular than in the 1960s
Audrey Hepburn again in here iconic role as Holly Golightly in Breakfast at Tiffanys.
and a funny pair from the 1960s
Thats all for now, I have to pack for a weekend in Oxford with my boyfriend!
Now which sunglasses do I take?
Remember with Sunglasses, BIGGER is always BETTER ;)
bye x