I love cooking and I love trying new recipes and experimenting with them too.
(id like to think of myself as quite the domestic goddess but cut me some slack when i use a jar mix because i am a poor student)
Here are some of the things I have cooked recently.
I ADORE mexican food!
chicken fajitas - discovery sauce, with chicken, peppers, lettuce and topped with cheese and mayo on a flour tortilla.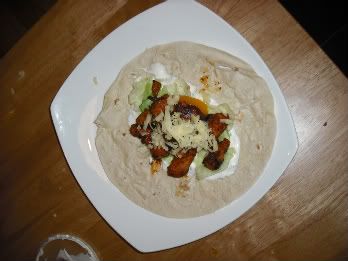 Chicken Quesadillas - old el paso kit (shhhh!) with chicken peppers and tinned tomatos, hot salsa and a blob of mayo (love it).
We had a BBQ yesterday and i made chicken kebabs i used a BBQ marinade and then just slid button mushrooms, onions and red peppers onto skewers in between the chicken. they were gorgeous!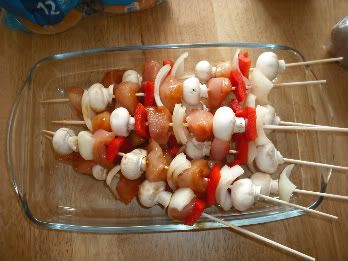 For my degree course, we have to have a end of year exhibition so me and some of the other photo art ladies held a cake sale to raise money for posters etc.
here is our lovely spread - thanks to vinnie, emily k, claire and daryl for the yummy cakes! we raised £30!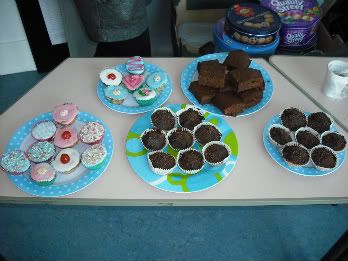 and lastly some home baking just for me and my housemates! chocolate biscuits! -the recipe is from Women's Weekly cookies and Biscuits cookery book. I changed the shape and decorations though :P
My boyfriend is a lucky boy! which reminds me! we had our 1 year anniversary last sunday! we went out for a meal at Wagamamas in Cardiff, it was lovely, i shall post the photographs when i get a chance but right now im off to a photoshoot!
ciao for now! x