I was looking at the Lulu Guiness website the other day as she has just celebrated 20years of her handbag business. I really want one of her lip clutch bags they are wonderful :P
I noticed whilst browsing that she had made some bags with lobster patterns on them. This instantly reminded me of Dahli's lobster telephone and his collaborations with Elsa Schiaparelli.
(bags by Lulu Guiness)
Dali's Lobster Telephone
One of schiaparelli and Dali's collaborations.
I then read the interview with Lulu on her website http://www.luluguinness.com/lulu_guinness_interview.php
and found that Elsa Schiaparelli was one of Lulu's influences. It all made sense now.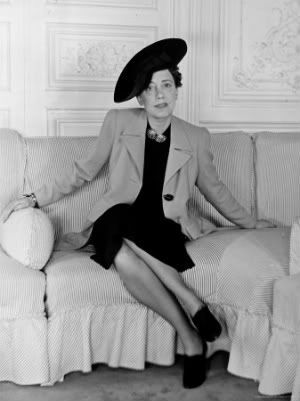 Elsa Shiaparelli (1890 - 1973)
Schiaparelli was at the height of her career during the inter war years, unfortunately her style was not as popular after WW2 which left room for designerslike Dior to take over with new styles Dior's style was very fitted with cinched waists and took full advantage of the end of the war by using more fabrics which had been on shortage previously.(note the longer skirt)
Shiaparelli's work was greatly influenced by the surrealist movement having met Man Ray and Duchamp and then collaborated with Salvador Dali and Alberto Giacometti.
Shiaparelli's outfits were worn by the likes of Mae West, Joan Crawford and Daisy Fellowes (heiress to the Singer sewing machine company). Elsa used crazy prints of banal objects and introduced visible colourful zips to clothing. One of her dresses even had visible rib cage and spine applique.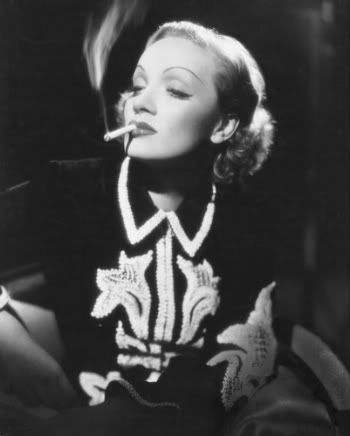 Marlene Dietrich (German Actress)
I love the tailored suit jackets with the padded shoulders and intricate embroidery.
By 1932 Shiaparelli was employing 400 people including some of the best tailors around which made her wacky designs a reality.
and the detailing of the red jackets sleeve
I really love the shape of the pockets on the front as well.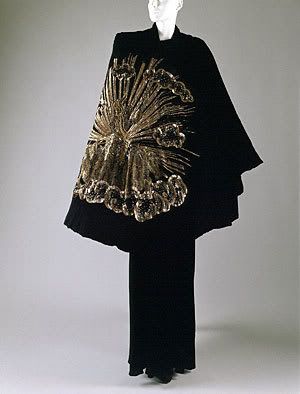 Another designer working at the same time was Coco Chanel. The boigraphical (is that a word) of her life is coming out soon starring Audrey Tautou as Coco. I would really like to see the film as the trailer looks wonderful! Chanel managed to survive the changes after the war and as you know the brand is still around today.
here is the trailor:
I think they should make a film about Elsa as well.
that is all for now :)
bye x