Day 3
After the Eiffel tower we headed out to Republique on the Metro. We were trying to find a different photography exhibition, this turned out to be adventure!
By this point in the day we had begun to get hungry and since we had yet to sink our teeth into a marvelous french cake we went on the hunt for a patisserie.
We found a lovely little shop and all chose a cake. I had a chocolate religious, which is essentially a big profiterole topped with a little one, they are supposed to look like nuns (hence the name) they are also very much the same as eclairs.
Here is a pink one off google images.
Me and vinnie with our cakes, and I <3 Paris t-shirts.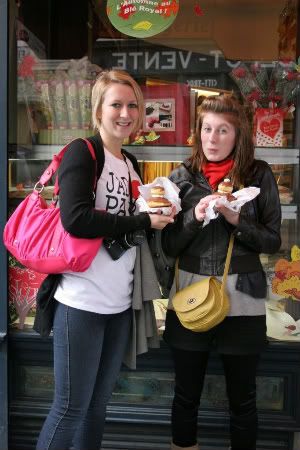 I look a bit of a mess, I had on a lot of layers because I'm always cold!
We then went for a drink in a german cafe/restaurant. They were putting up their christmas decorations. We sat outside and had our drinks, the place reminded me of a ski lodge it was beautiful! (I think it was on Place d'Republique if I havent just made that up!)
After being suitably filled up and having our thirst quenched, next up was the exhibition. It was located on Rue Charlot. It didnt take long to find but it was a very long road and we were at the opposite end!
Luckily there was plenty of really cool shops and galleries along the way.
We didnt walk far before we found Mon Amour. This little gem of a vintage shop was full of glizy jumpers. It had a huge collection of accessories such as bows and belts as well as some awesome platform shoes and an adorable fur collared coat! It wasn't outragously expensive but I didnt have many Euros left. This place will be my first stop next time I go to Paris.
A little bit further down on the opposite side of the street there was a rockabilly shop called Mademoiselle Vegas, think tattoo culture and rock and roll inspired gifts and that pretty much sums up this boutique! It had it's very own pink scooter in the window too.
We carried on walking and stumbled across an antiques shop which had a carousel horse in the window. It looked as if it had come straight out of the Mary Poppins scene where they jump into the chalk picture on the pavement, I love it!
'supercalifragilisticexpialidocious!'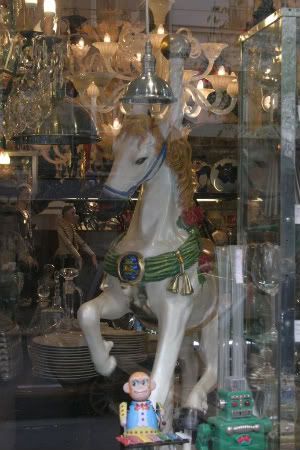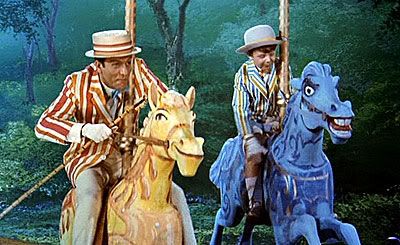 There were a few small galleries on the way, including one that was showing some photography work inspired by Coco Chanel. I stupidly forgot to take pictures or write any of it down.I will ask the girls if any of them made a note of the photographer.
Eventually we got to the exhibition we were planning to see Prix Pictet 2009. It is another annual event, this years theme was earth and had photographer such as Andreas Gursky and Naoya Hatakeyama showing work. unfortunatly we hadnt realsied it was 9 euros to get in, so we had a peek through the window and then walked back haha!
we had a busy night as it was my friend Alexa's 21st birthday, so I will post another blog soon! A taster: eating out, getting drunk and an incident with the french police (almost)
Au revoir!