I have a huge weakness when it comes to books. Anything about food, crafts, vintage or beautifully illustrated/photographed and I will be straight on amazon adding it to my wish list.
If you're stuck for christmas ideas either for yourself or a friend here are some ideas.
1) Retro Fiesta: Gringo's guide to Mexican Party planning. by Geraldine Duncann
here is the synopsis:
'Viva Mexico! We invite you to explore Mexican cooking the retro way. Peppered with mid-twentieth century American visions of Mexican culture, Retro Fiesta includes classic favourites like enchiladas, tamales, and margaritas, as well as mini courses in pinata making and traditional Mexican party games. Discover the rich Hispanic heritage that introduced post-war America to favourites like chips and salsa and have had gringos saying "gracias" ever since. Filled with vibrant vintage images and great Spanish sayings, it's easy to bring to life the traditions of Mexico in your own home. Grab a sombrero, key up the mariachi music, and get ready to dance a ranchera - it's fiesta time!'
Available from Amazon
2)Sew! by Cath Kidston
I love Kidston's quaint English style so last year I recieved Kidston's Make! and it was great, it had lots of lovely sewing projects such as a teacosy and table cloth. It also came complete with stencils and your own bag to decorate yourself. Sew! comes with all new projects to sew and this time the free gift is a length of unique kidston fabric and handles to create a bag from scratch. I really hope I get this one!
Or equally if you prefer the sound of Make! get that instead :)
Available from most Bookshops, http://www.cathkidston.co.uk and amazon
3) Tattoo Mystique by Angelique Houtkamp
This is for all you Rockabillys out there. If you love vintage tattoo culture, this is the book for you. Angelique Houtkamp is a unique tattoo artist. Her mix of fantasy creatures and flappers along with traditional sailor tattoos create stunning designs and are perfect in book form. Again this is the second book released, her first being Tattoo Darling. This book would appeal to anyone interested in the art of the tattoo and fans of vintage inspired illustrations like.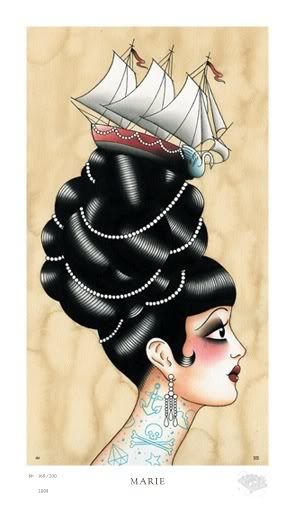 The books are available to buy from http://www.salonserpent.com/Home.html and Amazon
4)Vinatge Hairstyling by Lauren Rennells
This book is exactly what it says in the title. A step by step guide to creating wonderful vintage inspired hairstyles. Using modern appliances and accessories this easy to follow guide will make recreating hairstyles from the 1930s to the 1960s easy and fun. Each page has clear and well photographed pictures to learn from and admire. Useful for beginners and pro's alike!
You have a choice between the first and second edition.
This picture is taken from the First Edition book.
Vintage Hairstyling is available to buy from the website
http://www.vintagehairstyling.com/buynow.html
and http://www.vintagehairstyling.com/retail.html
5) Leading Men/Ladies and Couples by TCM
Each of these 'guide' books provides a profile of 50 most loved leading men/ladies or couples (depending on which book you buy) with Portraits, film stills, movie posters, basic stats and a biography and filmography. These books are great for those being introduced to classic film and fun for those who already have a great knowledge. I own Leading Ladies and I am always re-reading it.I will be purchasing the others as well!
Leading Ladies has the likes of: Carole Lombard, Audrey Hepburn, Ginger Rogers, Sophia Loren, Lauren Bacall, Judy Garland, Marilyn Monroe and Barbara Stanwyck to name a few!
Leading Men: Cary Grant, Jimmy Stewart, Humphrey Bogart and Steave McQueen.
leading Couples: Fred Astaire and Ginger Rogers, Bogart and Bacall, Clark Gable and Vivien Leigh.
Available from Amazon
Hope this was helpful, interesting and fun!