Lipstick is one of those things that can be hard to pull off, you need to have a bit of confidence when wearing it the first time so that when all your friends say 'what have you got on your lips?!' it doesnt put you off.
Here are my 3 fave lipsticks and why I like them so much! They won't make you feel self concious or outragious and before you know it your friends will be wearing lippy too.
1) In my opinion every woman needs a pillar box red lippie in her makeup bag.
I love 17 (by Boots) Lasting Fix Lipstick in 'Showcase'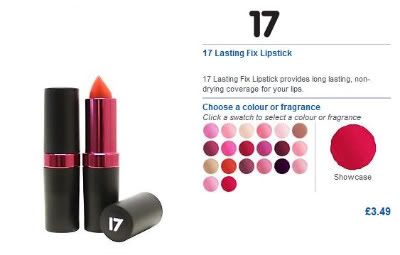 Here is how it looks on, because the website pictures don't do the colours justice.
It is a vibrant colour red with a hint of pink and it goes well with most outfits, it lasts for ages even when out drinking cocktails ;)
And don't be out off by the price, It is cheap but that doesnt mean its not good quality and the money I save can go towards clothes or christmas presents!
Why not get a red nail polish to match for a perfect festive look?
such as No7 (by Boots)
Or Barry M
Next is the same brand 17 Lasting Fix but in 'Pink Power'
A bright Barbie pink for when I feel girly.
Last is a striking Deep Burgundy for when I want a Clara Bow pout.
Rimmel London's Moisture Renew Lipstick in 'Burgundy Delight'
This lipstick is a great colour but because its so vivid, however it is not supposed to be long lasting so you will need a layer of Lipcote and maybe the odd reapply. But thats fun isnt it? :P
at £5.99 its another fairly cheap one, but this time its in a nice metallic case.
again the picture in no way shows how the colour will look on, so heres a picture:
Of course its worth looking at your local store and testing different colours. I am on the look out for a nice coral, 17 does have one, but I think it is too shimmery.
Another good thing about these lipsticks is that none of them bleed, I do use a lipliner when I want to make my lips fuller or to create a cupids bow shape, but I generally don't feel I need to use one.
and this is the best way to seal all these lipsticks
hope this has been useful happy applying! :)