I recently discovered up and coming fashion designer Holly Fulton. I was immediatley drawn to her use of vivid block colours.
'I have a huge love of art deco and Bauhaus styles, cubist fashion and the geometry within all these genres and the re-interpretation of these into contemporary materials gives me huge inspiration' Holly Fulton
Fulton's designs represent Art Deco well, the garments are modern and the adornment of crystals and studs add a luxurious feel which is synomynous with the 1920s and 30s. Geometric shapes and patterns on sleek but structured silhouettes resemble Deco architecture such as the Chrysler building .
The accessories also compliment the look well, overlarge beads and bibs are very tribal in style and the exoctic was a great influnece in the beginning of the last century. The perspex and metals of the jewellery play off on the sheen of the PVC, silk and patent leather.
Some of her new pieces will be worn by Sarah Jessica Parker in the new Sex and the City movie.
These are my pick of faves spanning from all 3 of her collections.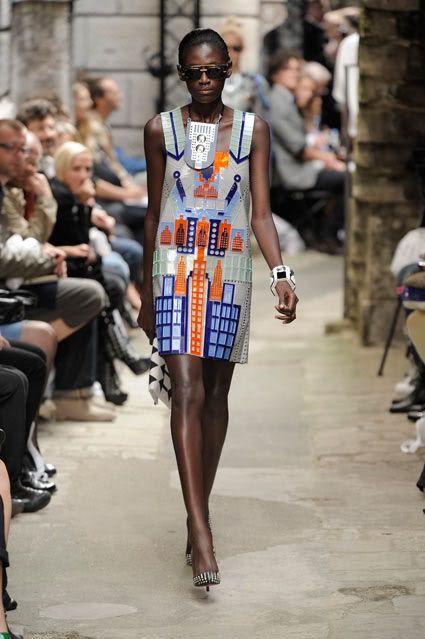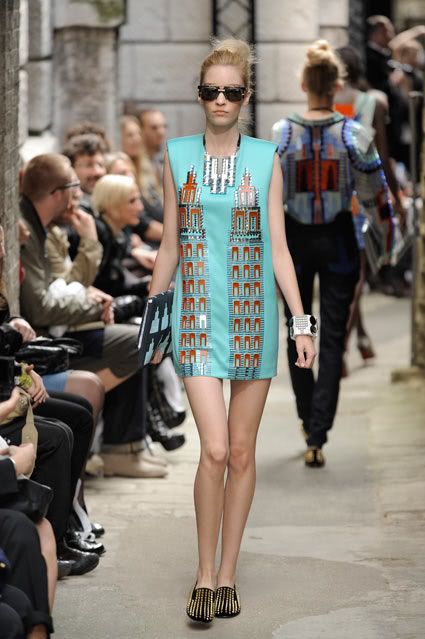 I must admitt though, I'm not a fan of the fake eyebrows! :P
http://www.hollyfulton.com/