Day 3 - EVENING
Alexa's 21st birthday deserved a celebration of epic proportions, so we headed to the supermarche for bottles of wine.
Getting ready to go out in the dorm we drank our wine and started a game of 'I have never' it didnt take long for us to get quite merry.
We had a reservation at the Italian restaurant nextdoor, so a group of 30 of us headed over. I think we were quite noisy :S!! I had a four seasons pizza and it was so good! We could see them cooking in a proper stone oven. We ate and drank some more and enjoyed each others company. When dessert came Alexa was surprised by a sparkler in her creme brulee!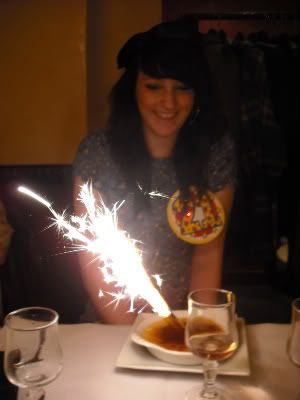 here is a picture of me, katy and the 2 laurens.
i love the tea dress im wearing, its not vintage but there were some great reproductions a year or 2 ago.
continuing the party we went down the road to a karaoke bar we had spotted the first day. Unfortunately the language barrier or (i think we got ripped off as tourists) got in the way of our fun. We noticed the alcohol menu was really expensive so we asked for tap waters, we were given 3 bottles of sparkling water and then they tried to charge us 6 euros for each one! So we went to leave and most of us managed to get out but one of our friends got stuck inside and the bar owners threatened her with calling the police! She reluctantly payed the money and everyone chipped in when she came outside.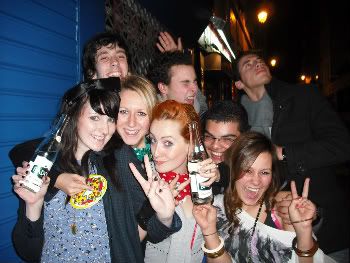 here is a picture of some of the girls with the expensive bottles of water and some local boys who jumped in the photo.
The french boys pointed us in the direction of a good club. In the end we only had 1 more drink and walked back to the hostel because we were already majorly drunk and had to get the Eurostar the next day. It sounds anti-climatic but it was an awesome night.
Day 4 - Homeward bound!
The trip went so quick and I had such a great time! We had a few hours in the morning to do one last bit of shopping/whatever before we headed back to Gare du Nord for the Eurostar. Because of our night out we decided to just make our way to the station and chill out in a cafe and wait for the others. On the way we found a cute little camera store with a window FULL of lenses. It was amazing. The shop was more like a cupboard so we didnt go in.
(not a great photo i know, sometimes its hard to believe I'm doing a photography course)
The beautiful building that is Gare du Nord, i love the impressive roof. One last panini and then we boarded the Eurostar home, the mood was a lot more subdued this time round, everyone was tired and sad to be going back home to the reality of dissertations, deadlines and general work. (oh and the welsh weather!)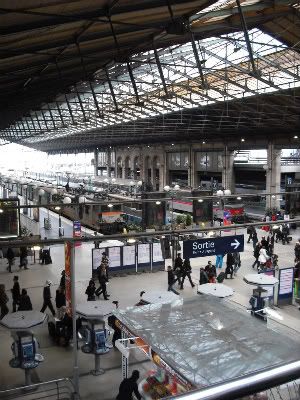 We arrived back in Newport 7.30 British time, it was pouring with rain. Welcome home!
haha
hope youve enjoyed these posts and i wasnt just rambling!