Here are my current projects at the point they are right now.
Hattifattener 1:
DONE!
he is a bit creepy isnt he!
Moomin House:
Has a roof at last.
Cath Kidston purse:
Almost done, still need pink thread:
EDIT: cross stitch is finished now the bit I'm dreading...assembly of the purse!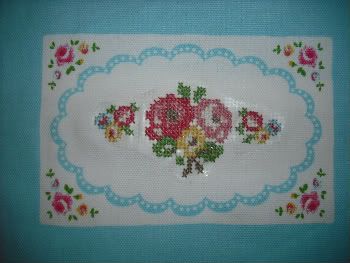 Next ideas are like I said circus themed initials like the cusions made by Emily Peacock
http://www.emilypeacock.com/
all the designs on the website are so adorable! but I dont think I am ready to try and make a cusion yet!
this is the style I want to do, I will design the pattern myself and I will pick greens and pinks for the colours.
I have been looking at Photoshop tutorials to make photos into cross stitch patterns and it looks fairly easy so I will try that soon.
I'll probably make more as well Hattifatteners, at least 2 because they always seem to be in teams of 3 in pictures.