I watched an episode of River Cottage the other day, it was all about making lunches interesting. I am a sucker for buying my lunches in town with all the food places just round the corner I often buy a Boots meal deal or a Gregs, probably costing me around £15 a week :/
I know that many people take their own lunches to work and this is nothing new. However River cottage suggested some quick tasty alternatives to rushed sandwiches made the night before, such as a butternut squash soup which I want to try.
I tried the recipie for pastys made from leftovers.
Here they are before and after going in the oven.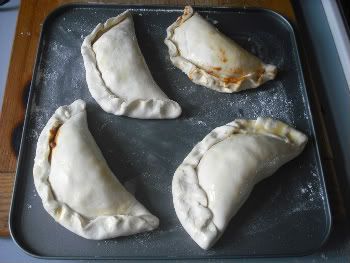 I used a frozen puff pastry because its quicker than making your own pastry and mine is always a bit hit or miss. I filled it with leftover chilli con carne from the night before.
So me and my boyfriend had nice filling lunches that saved us money!
next time I will try a different filling and remember to poke holes in the top of the pastry before putting in the oven (I think thats why some of them split).