This is my 1970s Miss Selfridge day dress, it belonged to my mother and then she gave it to me because it doesnt fit her anymore and it just hangs sad and alone in her wardrobe.I like the style, it is a 1970s dress but it has the look of the 1940s about it.My face looked kind of silly so I cropped it out haha
My mum has a few more of her old clothes but she (like many others) thought the 80s would never be back in fashion so chucked most of her stuff away!
I love this dress because its good quality, at the beginnings of the highstreet store when the clothes were all made in England and workers were paid a fair price. How times have changed in just over 40 years!
This dress has a beautiful floral pattern.
here are some close ups, ignore my face again if im taking a picture of myself i have to concentrate wayyyy too hard!
Im no good at recreating hairstyles despite the books and tutorials Ive got/watched, so forgive my cheats pageboy look and quiffy thing. I need more practice!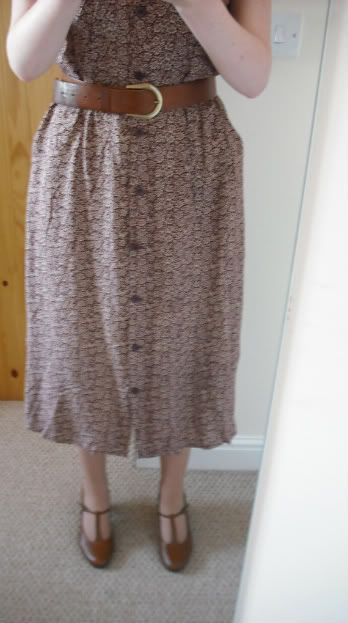 My shoes were from Peacocks ages ago i love them! I wear them so often I had to get them re-heeled! I like the t-bar shoes because A) I can walk in them with ease no matter the hieght of the shoe and B) they are reminiscent of the 1920s my favourite era :)