One of the key pieces you need this Autumn/Winter.
Topshop of course is right on the pulse of this trend.
here is a selection of their best. my fave is the blue number on the end.
Ranging from a respectable £40 to £150 Topshop have a large collection to choose from for every budget.
www.topshop.com
Not to be outdone River Island came up with this nice structured piece with shoulder pads, definitely harking back to the 80s.
at just under 50 quid id say that was a good buy. When you think you will essentially be wearing this until spring with body con dresses and tailored or hareem trousers.
however if your looking for something more unique have a look at these:
Frank Usher jacket
http://cgi.ebay.co.uk/Frank-Usher-Embellished-Jacket_W0QQitemZ220493535301QQcmdZViewItemQQptZWomen_s_Clothing?hash=item3356705845&_trksid=p3286.c0.m14
These jackets are all quite dark, so how about this for those of you who are a bit braver. from suzysparklesalot on etsy: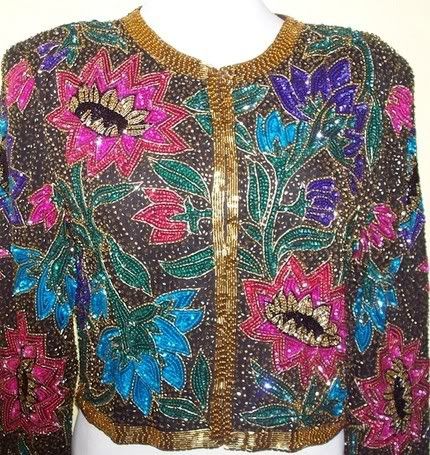 http://www.etsy.com/view_listing.php?listing_id=30746740&ref=sr_gallery_11&&ga_search_query=embellished+jacket&ga_search_type=vintage&ga_page=1&includes[]=tags&includes[]=title
House of Helen on ebay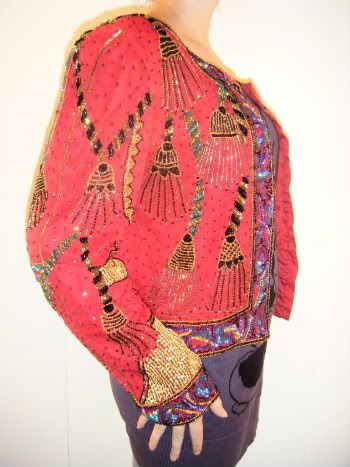 http://cgi.ebay.co.uk/Vintage-Silk-Embellished-Trophy-Sequin-Jacket-12-14_W0QQitemZ190338401035QQcmdZViewItemQQptZUK_Women_s_Vintage_Clothing?hash=item2c510d830b
This jacket is slightly more pricey but then again it is a piece from the 1930s!
http://www.katykane.com/20s.htm
The price works out at around £277.
I love how fashion comes full circle and designers are always looking back to past fashions to inspire their own clothes. Look back at my post on Schiaparelli if you don't believe me, and check out some of the similarities in her designs and these pieces above.
http://domesticblogess.blogspot.com/2009/06/lobsters.html
Fabulous! Id feel a million dollars in any of these jackets :)