I cannot remember if I mentioned I was moving in with my boyfriend in June.
I am so excited!
We have found a lovely flat (still in Cardiff) we are both itching to move in now. It has all the charm of the 1970s going for it with circular bathroom tiles and wooden panelling. Ihave no ictures of it at the moment but here are some of my planned purchases to make it a fabulous seventies paradise:
Tesco Direct Bobble floorlamp £45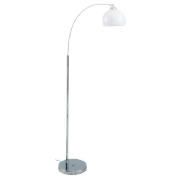 Tesco Direct arc floor lamp £50. I can't decide between these two, its hard to choose when you have only seen an online picture!
Habitat Fruiti jug £30
John Lewis Walnut spoke wall clock £30.