Another River Cottage recipe for you!
1 butternut squash, about 800g-1kg
Large knob of unsalted butter
1 large onion, chopped
1 small medium-hot chilli, deseeded and chopped, or a pinch of dried chilli flakes
A 3cm piece of fresh ginger, grated
1 large garlic clove, crushed1 small garlic clove, chopped
About 1 litre chicken or vegetable stock
227g jar of crunchy or smooth peanut butter
Juice of 1 lime
3 tbsp finely chopped coriander
Sea salt and freshly ground black pepper.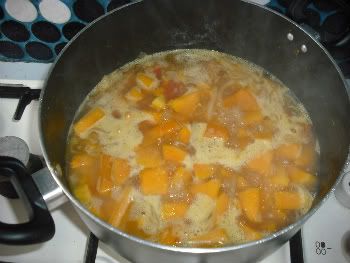 (simmering away before I blended it)
look here for the method
http://www.channel4.com/4food/recipes/chefs/hugh-fearnley-whittingstall/butternut-and-nut-butter-soup-recipe
changes I made to recipe:
I didnt add ginger or corriander (didnt have any in the house)
I used a vegtable stock and crunchy peanut butter
Next time, I would use smooth peanut butter just out of preference and I think I used a very hot chilli because it had quite a kick so I will use chilli flakes next time.
It was really easy to make, I didnt have to be constantly stirring or watching so thats a bonus, you can leave it for 20mins and do something else!
It tasted delicious :)
with crusty tiger bread too!