At Judy's Affordable vintage fair I got a lovely yellow polka dot dress from Maggies Dress (where I got my jumper at Blind Lemon) and a white clutch bag from a stall selling Nylon Sky jewellery.
I already own a similar clutch I got from a charity shop a few years ago and have almost destroyed through use! oops!
The labels in both bags say 'Shilton International' Im sure they are from the 80s. A quick search threw up a lot of Jane Shilton bags which is a UK brand that still exists today so I think it may be of this brand.
The white one I bought yesterday and is in much better condition and looks to be newer than the one I already owned (looking at the inside of the bag the lining and label seem to be more modern)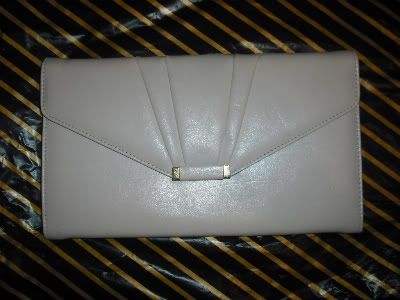 I want to show you the vintage clothes I havent yet photographed so I am going to get my boyfriend to take some for me soon. I havent even photographed my fur coat for you yet and Ive had that since November!!