So I found my camera charger (fairly soon after I started looking properly).
I promised a post about my vintage finds from the Blind Lemon Vintage fair:
Ive wanted a pair of sheer black gloves for ages but normally the vintage ones are super tiny and I havent found any to fit! I was lucky this time and saw these pair for a wonderful £3.50! I was sure Id got inspiration for them from Bette Davis in the film in All about Eve (1950) but now I'm not so sure where I saw them. Its a cracking film by the way if you get chance to see it! Bette is wonderful at her role as the diva Margo. I also loved the supporting role played by Celeste Holme as Margos kind and levelheaded friend Karen, she was beautiful! Marilyn Monroe has a bit part also.
This next one was also a bit of luck. There were a lot of vintage leather suitcases on sale this time but on in particular caught my eye. It had my initials painted on it! I couldnt let that pass me by! It is in fairly good condition just a couple of bashes to the corners which you would expect on a old used case. I want to know who it belonged to now! £25 it cost me.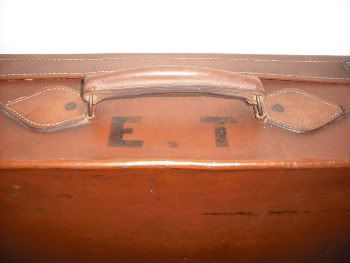 I also got a cute knitted short sleeve jumper top very 1940s in style but I doubt its that old. Its currently hanging out to dry so I will get a photo of it for you soon.
byeee