WOW!
I was excpecting the new Disney film to be good, but I didnt expect it to be perfect!
It brought back all the great things about Disney 2D animation which seemed to be lost amongst a world of CGI and Pixar (dont get me wrong I like pixar films but its nice to see some good old fashioned tradtional animation) the use of colour in the film is outstanding, it makes the swamps of the south magical. I don't want to ruin the film for anyone so this contains no spoilers, just some things to look forward to!
Set in 1920/30s New Orleans The Princess and the Frog is heart warming and funny. The animation is fantastic, there is one music sequence which is all in the style of a 1930s poster. The songs in the film are great fun, despite being catchy there seemed to be a lack of any real choruses, with a couple of exceptions.
Tiana is the latest Disney princess and main character, shes been hard worker all her life, with dreams of owning of her own restaurant. She is charming, witty and down to earth. Not to mention in one scene she has a 20s bob with fingerwaves and a magnificant evening dress :D
The villain in this feature is the Shadow Man a voodoo witch doctor, think Jafar in a top hat and tail coat, he is evillllll! But also he has that humourous side which is always a great mix, he pulls some great faces and he loves a good sing song too.
It took a long time for me to warm to the Prince Naveen character because he is so vain but thats really the whole point.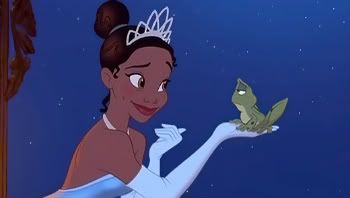 Also look out for the equally as fantastic minor characters such as Ray, Charlotte, Mama Odie and Louis who are awesome!
I don't know what else to write expect I coud see this film again tonight and enjoy it just as much!
This is Disney at its best, a Classic for a new generation and I can't wait for it to come out on DVD!