It was my 21st birthday on the 24th of January, and I had a wonderful time!
all friday I baked and prepared food and the decorations for my Mexican themed party.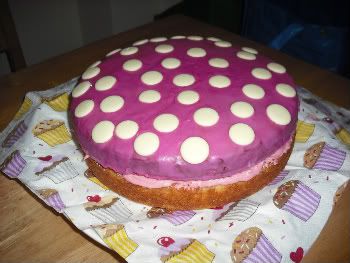 matching birthday cake and fairy cakes.
me and my best friend vicky, she came all the way from coventry to wales with some of my other friends to see me, which was lovely! I loved her pinata skirt, (a tutu with crepe paper sewed onto the layers) awesome!
There were lots of great costumes, plenty of moustaches and sombreros.
Food wise I made cheesy nachos with jalapenos, I heated wraps and pitta breads to go with the chilli my boyfriend made. Then I just cut lots of raw cucumber and carrot for the tonne of salsa and other dips I bought. A mexican feast!
I also made a Tequilla Sunrise to go in my cocktail fountain. And of course a pinata filled with sweeties.
anyway, glad I finally posted this because its very delayed!