You know when you buy a present for someone and you love it so much you want to keep it for yourself?
Well thats how I feel about this book
WRECK THIS JOURNAL by Keri Smith
I mentioned in my last post that I had bought it for my sister for her birthday... well I bought myself one too, I couldnt resist!
To give you an idea of what its all about here is a glimpse of what I have done so far. It took me a while but Im slowly letting go of my urge to keep this book perfect, I was even spontaneous yesterday!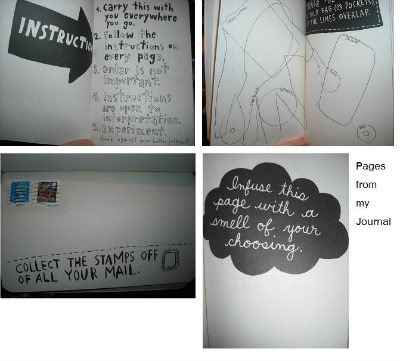 The best page is the one which says 'LIST MORE WAYS TO WRECK THIS JOURNAL' so far I have put:
1. Bury the book and dig it up later.
2. Run over the book with a car, bike etc
any other suggestions?
I first heard about this book on Claire Payne's fantastic blog have a look here for some great tutorials and cutesy crafts:
http://clairesblog.paynedesign.co.uk/