We found a few great vintage shops in Amsterdam purely by accident!
I had completely forgotten to look before we had gone away, probably because we had so much planned already.
Episode vintage
:
There are 2 shops in Amsterdam both are big shops full of reworked vintage clothes, lots of skirts made from older pieces (I bought one myself)
Episode offers a huge range for both guys and girls which is a nice change, my boyfriend got a hawaiian shirt.
They also stock a lot of scarves, sports t-shirts and jumpers.
This is what I bought:
I love this skirt its on trend, its comfy and despite the bold pattern it goes with most things!
and I also bought this pretty scarf.
you will find Episode at Waterlooplien and Berenstraat
http://www.episode.eu/index.jsp?USMID=30
a look at the website informs me this chain also has a shop in Camden (maybe youve been?)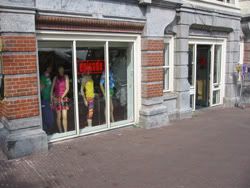 Laura Dols Vintage
:
http://www.lauradols.nl/uk/_footer/contact/
Mainly for women there is a huge downstairs room full of occaisionwear, lots of taffeta and net!
Also a lot of older vintage clothing and lovely gloves and bags
find it on Wolvenstraat
Zipper
:
Very retro, plenty for men and women here, lots of dresses from the 70s good fun!
Niewe Hoog Straat
http://www.zipperstore.nl/
Waterlooplien Market
A busy market by the canal. Expect to find souvenirs, smoking paraphernalia and second hand clothing.
Ben bought a fab levis denim jacket for cheaper than they were in Episode next door.
He was really happy with this because he had his levi jacket stolen from a club back home recently.
The tour guides say its open Monday - Friday 9-5.30pm and Saturday 8.30-5.30pm however we turned up at 11am and found most stalls werent open yet.
The best things about vinatge shopping in Amsterdam - the euro/pound is very similar atm so you know roughly what an item is selling for and you can work out if its worth the price or not, generally I found the vintage shops quite resonable but the more you can get from a market the better :)