Just a few more pictures of my bedroom now its been decorated.
I bought some artificial flowers to go in the white and blue jug on my window sill.
I want to recreate a disply similar to the ones in Sophia Coppola's Marie Antoinette.
Here is the ikea mirror I mentioned.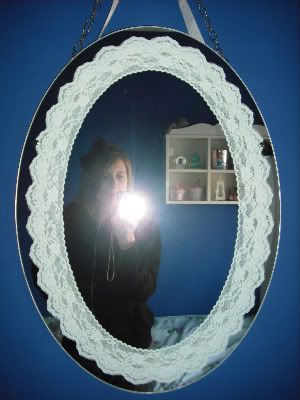 I love the lace detailing and the pink ribbon/chain that you hang it from.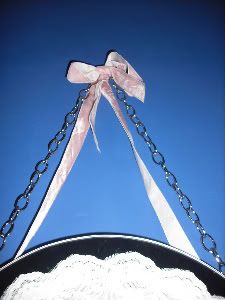 My second bedspread, which is lovely because the hints of pink and pale yellow break up all the blue in my room.
Yes I know it needs ironing haha. I still think I need a headboard...I dont like bare walls!
You can also see the little tower of draws my mum bought for me next to my bed.
I have bought a chandelier but It hasnt been put up yet so I didnt take any photographs.
I think thats my room done now really! Hope you like it.
I'm really proud of it, and I love staying at home now because I have such a nice room.