I really am no good at reviewing things so I will stick to talking about clothes worn by Marlene Dietrich in Shanghai Express and Blonde Venus.
The outfits in both films are beautiful, I only wish I could see them in colour to truly appreciate them.
In Shanghai Express Dietrich plays Shanghai Lily. Lily wears a classy mix of feathers and furs, dressing almost completely in black. In the last scene she wears a striking pair of black leather gloves with white palms with a matching bag tres chic!
did you spot Anna May Wong? Playing another gutsy woman, I like her slick hair style, with the curls by her ears :)
Blonde Venus is the epitome of classic films of the era, where Dietrich plays a cabaret girl and mother, the dance costumes are marvelous. Especially the white tux and top hat she wears with sparkling trimmings.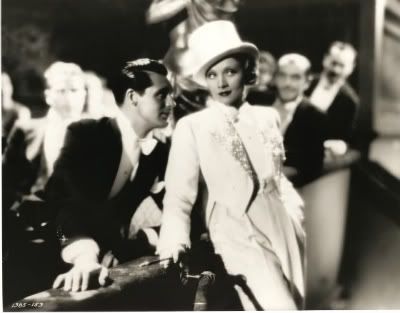 However I think she looks best in ordinary clothes as a mother, she had such natural beauty.
I really did enjoy both films and thought Dietrich's performance in Shanhai Excpress was so good. I had trouble relating to her character in Blonde Venus, although I understood the things she did, I found it hard to believe because I don't think she was very convincing at times, perhaps thats just me though?
I might start sewing feathers onto all my clothes, labourious but worth it i think :P