I'm back!
Wow! what an amazing 4 days I had in Paris, I do not know where to begin!
I guess I will start with the journey there.
I got up early Wednesday morning and got the coach with the rest of my class, we were heading to St Pancras in London to get the Euro star. For those of you who don't know, the Euro star is a train that goes from London under the English Channel and pops out the ground in France on the other side.
On the way to London I saw the Hoover Building!! I couldnt get a picture because we were moving, so I got this one off google images. I had only ever seen it on the tv before so this was a great and (unexpected) treat. Its a wonderful example of Art Deco architecture. Sady its now owned by tesco and boasts several tesco flags all along the top of the roof (not so art deco)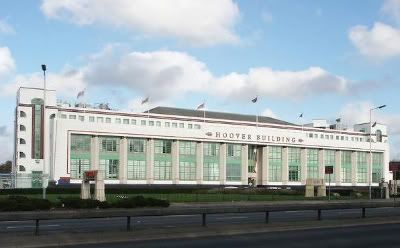 We got to St Pancras and boarded the Eurostar. It took us through the London suburbs then underground and when we came back into the light we were travelling through French countryside, I saw lots of wind turbines along the way (I am taking photographs of them for my final major project and am a bit obsessed) When in Paris' Gare du Nord station we regrouped and got the Metro to the place we would be staying.
We stayed in the Oops! hostel on Avenue des Gobelins. I was excited to hear this as I recognised the name of the street as a title for one of Eugene Atget's photographs. Atget was a french photographer at the end of the 19th century. He catalogued life in Paris, from the streets to its people.
The shops look a lot different now! check out the photograph I weas referring to: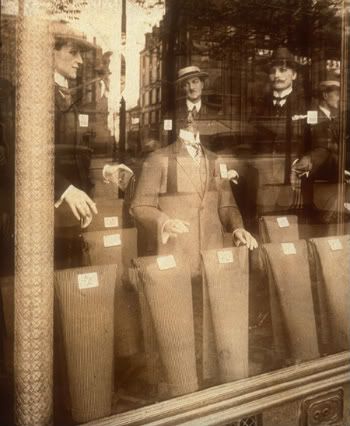 The first night we just settled in and went out for a bit of an explore of the surrounding area, had a drink and a meal then went to bed so we would be fresh as a daisy for Paris Photo the next day.
Paris Photo is an event held every year in The Louvre. Galleries from all over the world come to exhibit work and collectors go to buy prints from all sorts of photographers. As a photography student it was great seeing some famous images up close, learning new names and also seeing how each photographer had fabricated their work. It has given me lots of ideas! Here are some of my pictures of our first full day starting with the stroll to the Louvre and then some of my favourite bits from Paris photo.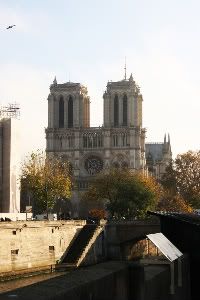 along the way I saw Notre Dame. :]
a beautiful Art Nouveau Metro sign, these were designed by Hector Guimard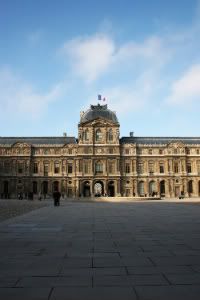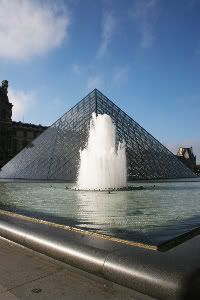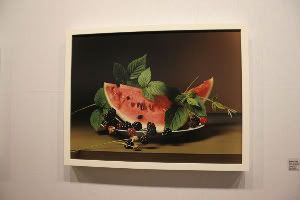 Early American, Watermelon and Blackberries by Sharon Cole. I loved this picture its so beautiful and I love how it emulates still life oil paintings. its odd because i love this image but I'm not usually a fan of those still life paintings!
Maurizio Anzeri this work has become majorly popular recently, all of the pictures on display by this artist had been sold. They are beautiful. You might want to check out the website because my photograph is a bit poor! If you can't tell he has taken old images and embroidered over them.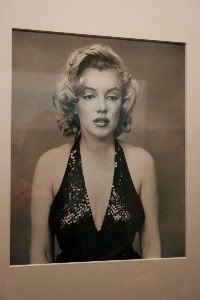 This is by Richard Avedon antoher celebrated photographer. This image was 56,700 Euros!! I think its a cobination of the work being an Avedon and the fact Marilyn is the subject.
SWEETIES! by Hong Hao it said it was a scanned photograph. I might give it a try myself!
this is to give you an idea of the size (by no means the largest photograph at the exhibition)
There was so much going on there and so many galleries I can't put up all the images. If you want to see more look at the Paris Photo website
http://www.parisphoto.fr/
after a long day at the Louvre we went to a local supermarche to get some food for dinner, we went for proper french inspired baguettes with a selection of cheeses and cold meats. We ate then headed to the Eiffel Tower to see it lit up at night. On the hour it glitters, it looks beutiful. We came back with a few souvenirs (including a I heart Paris tee each) and with the plan to climb the tower early the next morning.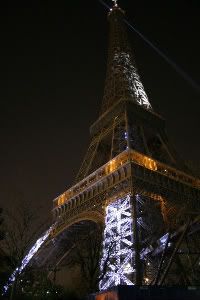 This will be a horribly long blog if I keep writing so I will leave you with this and post the rest in installments too :)
au revoir!