I am a great fan of all things vintage, especially the 1920s and 1930s. This Blog will mainly be to do with my passion. I intend to post pictures of things i find and liked and things ive made etc.
To start off (and so my page doesnt look so pitifully empty) I will tell you about my favourite highstreet shops for vintage style clothes. The highstreet brand with which i am always most impressed with is Topshop. The Kate Moss section especially has recently boasted a fantastic range of 1920s style dresses.
River Island has currently got highwaisted 1940s style trousers in the sales.
www.topshop.com
The tassle dress is available in black as well. I love the drop waisted style!
I also bought another lovely dress from topshop here it is!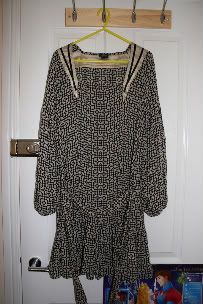 The best way to wear these is with stockings and some t-bar heels, and dont forget the pearls! ;)