Im sure since the arrival of Ikea everyone has a piece of scandinavia in their home whether it be a corkscrew or a whole kitchen.
I love the simplicity and ingenious designs and while I dont like having the same sofa as half the nation - the world maybe, it is clear why the influences of the nordic countries are so popular.
I am trying to add a touch of this to my new home, the flat itself (especially the kitchen) does remind me of a chalet in the mountains and as long as I dont look out the window I can keep up this fantasy for a good few hours.
I have been trawling charity shops,ebay and websites in general for pieces to put in my home. Taking inspiration from my flat, books and places I have been which have already sucessfully created spaces I lust after.
here are my mood boards
I am determined to get a stags head or antlers for my wall, (sorry vegetarians and animal rights activists) but I would settle for a fake if such a thing exists!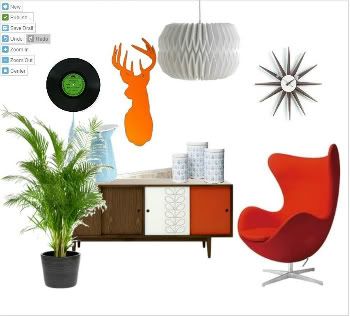 I really love Orla Kiely products the patterns and colours really are retro, you can buy her collection from John Lewis and I did see some bits on ebay but not cheap!
And how could I not include a few moomin pieces in there!
look here:
http://www.scandinaviandesigncenter.com/