Over the holidays I had my room redecorated, its not quite finished but it's almost there. I have the box room so there isnt space for a lot of furniture once my bed gets in, but my dad is going to put some more shelves up for me.
Ok so heres the theme, think Marie Antoinette and Versailles, now because its a small room i couldnt go overboard with golds and florals, so I went for the Petit Trianon style you know country farmhouse, delft pottery blue etc but i think ive done ok. There are no pictures as of yet but i thought id post a few of the lovely finishing touches ive added and then when its all complete i'll take photographs and post them here.
(just a bit of plugging for one of my fave films)
I got my furniture mainly from ikea: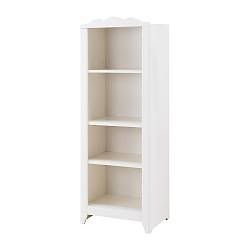 and i have the matching hanging shelves.
I couldnt believe it when i found these adorable cusions in Dunelm Mill, they match perfectly and i can imagine marie antoinette wearing the pretty shoes.
for my floor i decided to go with the painted floorboards and sheepskin rug, its so soft!!
(also ikea)
Versailles would not be Versailles without big pots of beautiful flowers, im going to go to Hobbycraft and buy some plastic pink roses and other complimetary flowers and try to recreate something like this:
I already have a beautiful jug which was my grandmothers, it is white with blue swallows on it, i will have to photograph that as well. The jug is a bit like this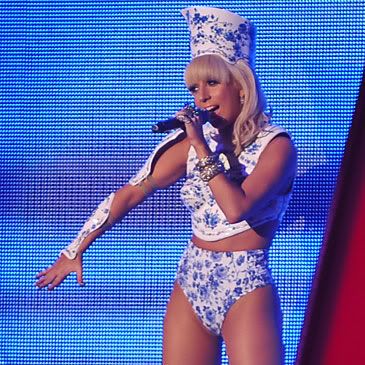 (dont you just love lady gaga, i couldnt resist putting this in, her costumes are MAD!)
Obviously I do need some floral patterns in my room so im incorporating that into all my bedding. i got one duvet set from ikea a simple white with blue flowers and one from the V&A museum shop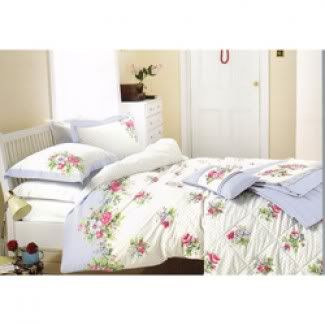 basically im taking the images from my 'look book' folder and showing you some of my inspirations for my room, then when i get a photograph you can see what you think.
I have roman blinds for my small bay window and when i get some more money I will buy some nice floral curtains to go infront (i probably wont ever close them its, they would just be a statement piece) and of course the obligatory chandelier, i have yet to find one in my price range and small enough to go nicely in my room. this one i did see in B&Q is the kinda thing i was going for but when i looked it was huge and expensiveeeeeeeeeeeee!! eep!
I wish i had room for a lovely dressing table but i dont,id love somehting from this place:
http://www.homesdirect365.co.uk/french-furniture-487/french-bedroom-furniture-562/french-dressing-tables-897/french-antique-white-ivory-1766.html
instead im going to have to fill a shelf with lovely perfume bottles and trinket boxes.
anyway thats it for now, hope that wasnt too dull without images of my actual room yet. Everything must look quite white and bland but 3 of my walls are a sort of bright royal blue so it needed toning down with all the white stuff x