I have a lot of thoughts buzzing around in my brain today. My recent almost unhealthy obsession with the Wizard of Oz has blown out of all proportions, my need for Ruby Slippers is consuming me. A little research has led me to that virtual marketplace where i spend most my wages, Amazon. There is rumoured to be a book which gives the information needed to make your own ruby slippers true to the ones made for the 1939 film starring Judy Garland. So next payday I will be purchasing 'The Ruby Slippers of Oz' by Rhys Thomas (which sounds to me a very welsh name, interesting!). I have also finally watched Tin Man this week! It was different to what I expected, I really enjoyed it, I love how the storyline is totally re-invented yet fits in with the story, so you dont feel isolated. I am a big fan of Zooey Deshanel anyway but she really does make a fantastic Dorothy well...DG! The character chosen to play the actual Dorothy Gale (briefly on the 3rd episode) however i wasnt so impressed by, im nto sure why, she just didnt look right! Maybe im being harsh as she only had a couple of lines. It is a lot of fun picking out the similarities between the different stroys and how they fit together. The costumes were made by Angus Strathie who did the costumes for Moulin Rouge, and they are all fantastic, as is the set and the whole 'feel' of this modern oz.
Overall I thought the whole thing was well acted, and very well written. i think making it a mini-series rather than a film was a good choice otherwise everything would have to be cut!
I also re-watched the Wizard of Oz, I love the scene where Dorothy and Co are almost at the Emerald City and Then the witch enchants a feild of poppys to send them all to sleep. Then Glinda sends snow to wake them up.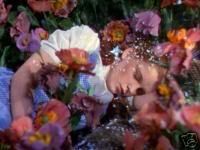 We have had a bit of snow here the past week, it settled briefly but its all gone now. I love snow, the hills surrounding Newport are still covered in a thick blanket of the stuff and im so jealous because i can see it from the kitchen window and everytime i walk into town but i cant get there! I really need to start learning to drive!
The only things ive made this week are a tattoo style swallow thing, i guess ill make it a brooch or soemthing. And 2 cards one a birthday card for my friend Nicola and a Valentines Day card for my boyfriend. I wont post pictures because i dont want to spoil any surprises.
Im off to watch Rear Window starring James Stewart and Grace kelly now. You should too :)
ciao for now! x