The things you do when there is no internet to distract you!
Ive not missed having a computer that much because I have had chance to sew and cook more instead.
Here are my latest dishes
This one isnt very special but its the first recipe I have attempted from my Moomin cookbook
Pasta Bake with mince and a creamy cheese sauce (It had a moomin name but I havent got the book with me sorry!)
Lemon cupcakes, The icing went a bit funny and didnt spread how I would have liked but they tasted lush. These cakes are something my grandma used to make a lot, she doesnt bake much anymore but I expect she could still give me hints on getting the best icing. She always made them in a tray bake style so they were square shaped maybe thats the trick!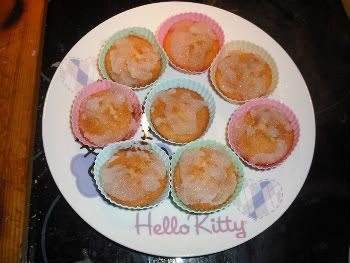 Steak and onion pie!!! My first ever attempt at pie! It was good, but I need a smaller dish as there was more pastry lid than filling ha.
In my haste to taste (ha) I delved in too quickly and forgot to take a picture so here it is on its plate with mash and peas. Sorry about the messy gravy spill, I am not one for plate presentation unless I'm doing a dinner party, after all it doesnt stay on the plate very long!
Coffee cakes.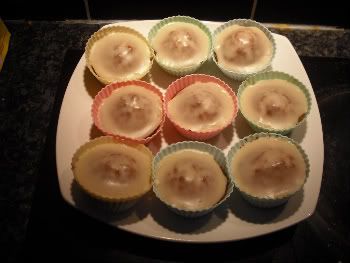 Another speciality of my grandma and another icing failure for me. Once again they were yummy to eat.
My grandma always used to make a big coffee sponge with coffee buttercream and walnut topping. I love coffee cake even though I dont like to drink it :)
Chicken and dauphinoise potatoes.
First time I have made the potatoes this way, I apologise again for the messy presentation.
Apple Crumble
Another first: crumble (I know how easy it is now)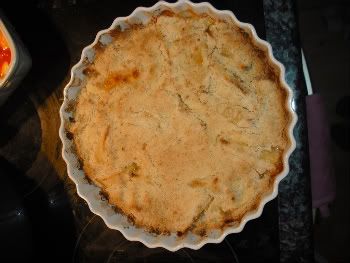 and the leftover apples made these!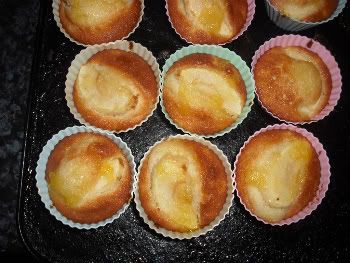 most of my cupcake recipies I used to make the cakes in this blog are from a book I got for my birthday, when I am back in Cardiff I will post the details of it. (although the apple cakes look the same as in the book I changed the recipe of the filling a little bit)
Lastly just a picture of a beef curry I sometimes make. I admit I did try with the presentation here, my flatmate discovered some cups we had made perfect rice molds! still managed some unsightly splashes though :P